Teen Music Business Class
in Partnership with Main IDEA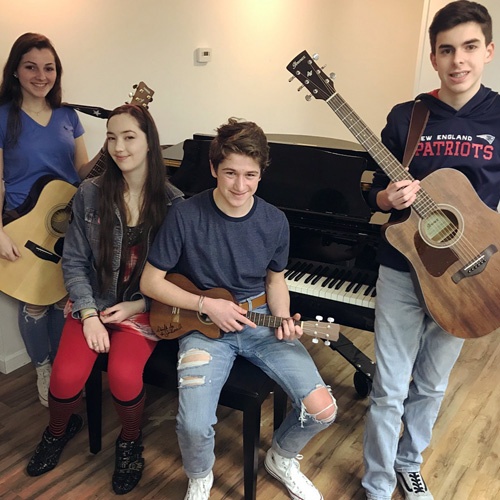 This new program is geared for serious students ages 13-17 residing in Worcester and the surrounding communities who are interested working professionally in the music industry. The goal of this class is to give students the knowledge and tools to confidently and successfully pursue their career in the music industry as musicians, performers, managers, producers, etc.
This class will focus on these five key components: Performance, Songwriting, Recording, Marketing, Management.
Students will learn how to book their own gigs, perform live, market themselves professionally, manage their music and write and record original songs. This will be accomplished through monthly live performances in the community, guest speakers/panelists, field trips to studios/shows, hands-on training and practicum, classroom-setting learning and weekly assignments.
We will be offering this class during the fall (September through December) and in the winter/spring (February-June). An advanced level course may be offered as an option for those who already have some experience with these components.
Students are expected to work hard, be punctual, commit to the entire semester, and attend all classes/performances/events. There will be no refunds should you withdraw from the class at any point in time during the semester.
Tuition: Winter Semester – $800
50% is due upon registration. Remaining 50% due prior to start of classes. Monthly payment plans are available upon request for the remaining 50%. A credit card must be on file for monthly payments.
Class Days/times: Classes will meet twice a month on Thursdays from 3-5pm. Additional dates for performances, field trips, events to be scheduled. Class dates are as follows:
Winter/Spring Semester:
February: 6, 27
March: 12, 26
April: 9, 30
May: 14, 28
June: 4, 11
Faculty: This class will be taught by Joy Murrieta, Executive Director of Main IDEA. Additional WMA faculty and Main IDEA staff may also teach classes throughout each semester.
Songwriting Workshops: WMA will be having 3 songwriting workshops throughout the school year for those who want more in-depth study of songwriting. We will be posting the dates and times for these workshops soon. Private lessons in songwriting are also available for those who are interested.