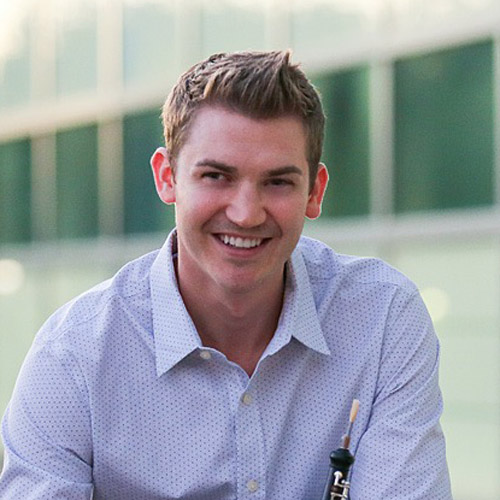 Colton Ray Cox graduated in 2015 with distinction from The University of Georgia with a Master of Music degree in oboe performance. As a fellow with the graduate woodwind quintet,
Southern Winds, he performed many outreach recitals for Georgia schools in an effort to educate young musicians. During his time at UGA, Mr. Cox served as principal oboe in the Symphony
Orchestra and Wind Ensemble, receiving the Director's Excellence Award in 2014. Recently, he was featured with the prestigious ARCO chamber orchestra performing Bach's Brandenburg Concerto No. 1.
He also took second prize in the Samuel Fordis Young Artist Competition, performing the Mozart Oboe Concerto with The Georgia Philharmonic Orchestra. Mr. Cox has performed with orchestras across the southeast including Charleston and Chattanooga symphonies, and Symphony Orchestra Augusta. Additionally, he recorded for documentaries, ballets, soundtracks, TV features, and was featured in the dedication recording music for the Billy Graham Center at The University of Northwestern in Minnesota.
As an undergraduate at the University of Minnesota, Mr. Cox served as rotating principal oboe in the Symphony Orchestra and Wind Ensemble and was featured with the New Music Ensemble on tour, performing Skrowaczewski's Fantasie per Sei. In addition to his academic pursuits, Mr. Cox was second oboist in the St. Cloud and Wayzata Symphonies, and performed with Pavia Wind Quintet. Currently a Doctorate of Musical Arts candidate, he is studying under James Austin Smith of the Chamber Music Society of Lincoln Center at Stony Brook University where he is a member of the Symphony Orchestra, Contemporary Chamber Players, and Long Island Baroque Ensemble. When he is not in school, Mr. Cox maintains an active teaching studio and has adjudicated high school and middle school music festivals, including JanFest and MidFest in
Georgia.
In 2014, he returned as an alumnus to The MasterWorks Festival where he received the C. David Oboe Fellowship and performed on the Honors Chamber Recital ('11, '12, '14). Mr.Cox has performed in masterclasses with Robert Atherholt, Nancy Ambrose King, and Linda Strommen, and his primary teachers include John Snow, Pedro Diaz, Reid Messich, AndreaFedele, and Julie Madura.