Rebecca Vieker, Violin/Viola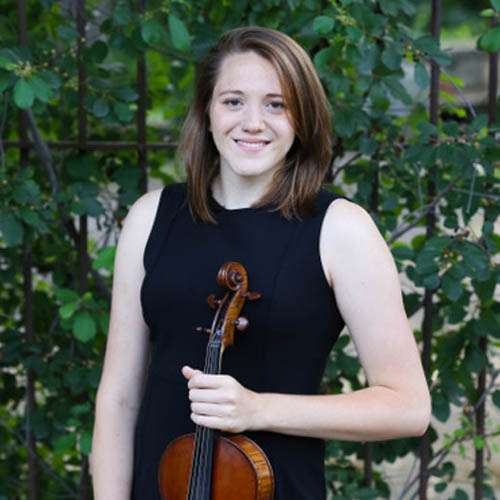 Rebecca Vieker is a passionate performer and teacher. Hailing from the Midwest, Rebecca began violin lessons at the age of 4 and began learning viola during high school. She went on to complete a Bachelor of Music degree from the University of Nebraska-Lincoln, studying under Jonah Sirota of the Chiara quartet. She then achieved both a Master's degree and Performance Diploma from Boston University, studying under Michelle LaCourse. This fall she's beginning a Doctorate in Viola Performance at the Hartt School, where she will be studying with Rita Porfiris, as well as serving as her teaching assistant.
Since she finished her undergraduate degree in 2014, Rebecca has been teaching private violin and viola lessons. During her time in Nebraska, she was a full-time instructor at Nissa's String Studio, a premier string studio in Lincoln, while also coaching chamber music for the Omaha Area Youth Orchestra. Since moving to Boston, she has taught with City Strings, Noteworthy Experiences and the Boston Youth Symphony Orchestra Intensive Community Program. She has had students perform in All-State and District Orchestras as well as various youth symphonies around the country. She enjoys teaching all ages and skill levels and is in the process of becoming Suzuki certified in violin and viola.
Rebecca's goal as an educator is to encourage her students to cultivate a love and appreciation for music while also fostering in them important skills such as critical thinking and perseverance. She believes the process of learning an instrument should be enjoyable, and that starts with solid fundamental technique and a creative learning atmosphere. Rebecca is a proponent of music-making feeling comfortable and natural. During her time at BU, she studied Tuttle Coordination techniques, which are used to release tension and allow for more comfortable and beautiful playing. By giving her students the tools to succeed, she hopes to encourage them to find enjoyment and satisfaction in their musical education, while working hard to meet their goals.
Rebecca has performed around the country with various symphonies and chamber ensembles. She's played with such groups as the Trans-Siberian Orchestra, the Lincoln Symphony and the Sioux City Symphony and shared the stage with artists such as Joshua Bell and Ben Folds. During her time in Nebraska, she was a member of the Rangbrook Ensemble and Co-founded the Star City Strings Ensemble. While at BU, she served as the orchestra manager and rotating principal in the BU Symphony Orchestra. When she's not teaching or performing, Rebecca enjoys playing and coaching volleyball and hiking with her dog, Rey Feta Skywalker, and her husband, Chris.