Elizabeth Bronstein, Cello, Fiddle, Beginning Violin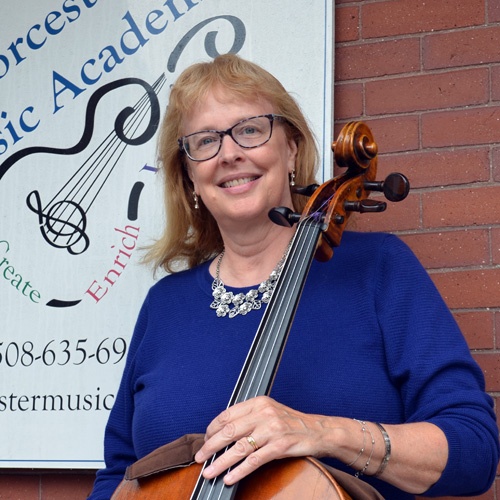 Elizabeth Bronstein studied cello with Yuan Tung, Gabor Rejto, Henri Honneger, Timothy Eddy, and Bernard Greenhouse. She earned her Bachelor of Music Degree at the St. Louis Conservatory and her Master's and Doctoral Degrees in Performance (DMA) at the State University of New York, Stony Brook. Dr. Bronstein performed for 10 years as the cellist in the trio "Aequalis", performing over 50 concerts per year throughout the United States, including solo concerto appearances with the Phoenix Symphony, Honolulu Symphony and New Hampshire Symphony. Aequalis can be heard on New World Records. Elizabeth works at Johnson String Instrument, as a specialist in cello quality control/play testing.
Throughout her career, Dr. Bronstein has enjoyed teaching students of all ages.  She has performed in various orchestras and chamber ensembles, including the Boston Philharmonic and the Serata Quartet.
Elizabeth performs regularly with "Trio Cocobolo" (piano, cello and clarinet), current Artists in Residence at the First Unitarian Church in Worcester.  She also performs jazz and Cajun music (on cello and fiddle) as "Deux Amis", with Sam Politz (accordion/piano/vocals).
Elizabeth teaches classical, jazz, folk and cajun music.
Register today for lessons with Betsy!